California Democratic Links
In this section
Contact Us
Contact John Broughton (johnbroughton @ comcast.net ) for further information regarding the club or this website, or Rick Massell (rickm @ sonic.net) for information regarding the club's programs.
Our next meeting: Thursday, February 27th, 7 to 9 p.m.
Our February 2020 meeting will be on the 27th. As usual, we'll be meeting at the Windsor Round Table Pizza restaurant; the meeting is free and open to everyone, and pizza will be served. The program will be on the topic of "Getting to healthcare for all". This will be an open discussion with local health professionals and community experts on how we get there, presented by Health Professionals for Equality and Community Empowerment (HPEACE).
Benghazi Again – Really!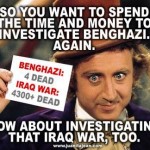 Upcoming Events
Page Locator