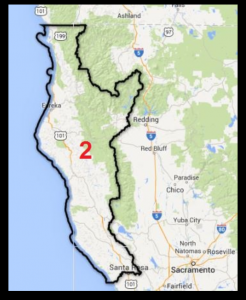 The Windsor Democratic Club is entitled to send five representatives to the Assembly District 2 Pre-Endorsement Conference, to be held the weekend of October 5-6. This conference, and similar conferences in other Assembly districts, is the first step in the California Democratic Party's endorsement process for 2020 election contests.  (The California state primary is on March 3, 2020.)
Candidates who receive at least 70% of valid votes cast during a Pre-Endorsing Conference will automatically be endorsed by the California Democratic Party, unless challenged. (Challenges require a fair number of signatures from party representatives.)
Representatives for Pre-Endorsement Conferences can vote by mail as well as in person.
(California Assembly District 2 runs for Santa Rosa [parts of] north to the Oregon border.)
The representatives from the Windsor Democratic Club  were  selected at the club's meeting on Thursday, June 27th, following a call for nominations. The selection was uncontested – no one who wanted to be a delegate was turned away. The five that were voted to be representatives are John Broughton, Julia Donoho, Albert Handelman, Rick Massell, and Rosa Reynoza.