At the Windsor /North County Democratic Club meeting on January 26, an array of speakers representing a variety of political organizations informed the more than 60 people in attendance of actions that can be taken to resist the proposed policies of the new Trump administration. Many of those in the standing-room only crowd had attended Women's Marches in Santa Rosa and elsewhere in the Bay Area and were looking for ways to continue to voice disapproval of the new government's agenda.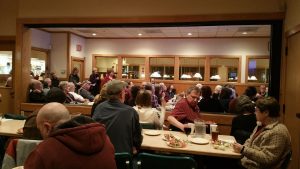 Indivisible is a new national organization created by former congressional staffers who saw first-hand how the Tea Party faction of the GOP obstructed the Obama presidency. Tea Party tactics were the starting point from which these volunteers created a handbook for resisting Trump, available online at www.indivisibleguide.com. Local chapters of Indivisible are springing up throughout Sonoma County. Val Campbell from Healdsburg, Sandy McCracken from Santa Rosa, and Sandy Dobbins from Windsor all spoke and described the work of the organization. Calls to local members of Congress are being made, asking them to oppose cabinet nominees. Visits to the offices of elected officials are also being planned.
Healdsburg resident Tessa Kraft discussed the work of Organizing for Action, which grew from the Obama for America campaign organization. Since the 2012 re-election campaign of President Obama, OFA has focused on issue advocacy. They are now phoning California congressional districts represented by Republicans, asking Democrats there to express support for the Affordable Care Act to their representative.
Long-time Petaluma activist Dale Axelrod was on hand to inform the audience about Our Revolution, an outgrowth of the Bernie Sanders campaign. Axelrod presented a laundry list of issues of concern to him, ranging from money in politics to the integrity of the voting process. More information can be found at www.ourrevolution.com. The group is currently urging people to ask their California Assembly member to support SB 54, the California Values Act, which will create safe spaces and expand protections for undocumented immigrants.
Janet Reynolds and Val Hinshaw from the Political Organizing Committee of the Sonoma County Democratic Party talked about the activities of that group. POC's major focus is the election of candidates endorsed by the Democratic Party. Voter registration is also ongoing, and the group will be working to preserve rent control in Santa Rosa, which will be decided by a June 6 ballot measure.
Gail Jonas, a retired Healdsburg attorney and dedicated political activist, shared with the group how grassroots organizing defeated Healdsburg Measure R in November's election. The measure proposed lifting the existing growth management ordinance and expanding new housing. Jonas, along with some dedicated friends, organized precinct walks throughout the community. The measure was defeated in spite of support from the city council and city administrators. Gail suggests keeping advocacy fun and respectful; David can still defeat Goliath.
— Barry Hirsch